Rod Puppet Item Number: Ib317 from the MOA: University of British Columbia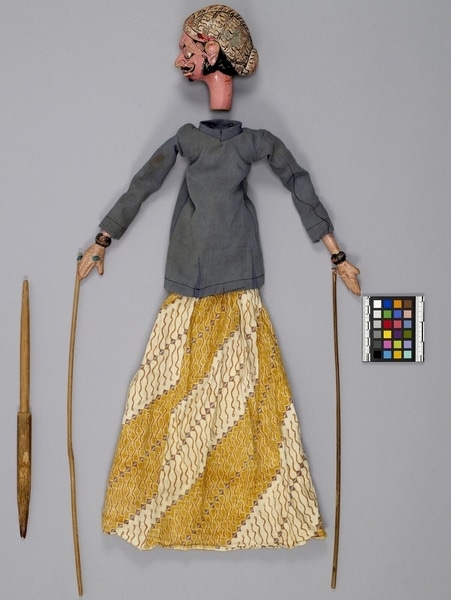 Description
Three-dimensional male humanoid puppet: large head (part c) fits into body clothed in a shirt and skirt (part a), and a control rod (part d) with a long shaft passes through the body and fits into the neck of the figure's head. The body has jointed arms, each with a long controlling rod attached, and one arm (part b) has become detached. Pink face has large eyes with red irises, protruding upper teeth and painted black moustache under the short, broad nose. Javanese-style headdress consists of black cap surrounded by a turban-like scarf with black serpentine design on light pink background. Scarf comes to a knot at the back of the head. Hair comes down in sideburns and fringe from under scarf. The figure is wearing a dark grey-blue cotton shirt with a high collar and long sleeves. The upper arms are braided cloth. The arms are jointed, bracelets at wrists, hands flat with extended thumbs. The batik skirt has wide yellow stripes with brown wavy lines and blue diamonds on an off-white background.
History Of Use
Javanese puppetry as an art form probably developed by the 11th century. The three-dimensional wooden wayang golek puppets of western Java, which are to be distinguished from the earlier and more sacred wayang kulit shadow plays puppets or other forms, appeared during the 16th century. Originally the plays depicted Javanese mythology, but after the Indian conquest of Java the Hindu epics, Ramayana and Mahabharata, were incorporated into the cycles, which comprise about 200 plays. An individual or group hires a dalang (puppet-master) to celebrate important occasions. The performances often last all night and are generally presented in three acts, with vocal and instrumental accompaniment. The individual plays vary widely in detail but usually involve conflict between good and evil. They serve a moral and religious purpose, and more recently, one of political commentary. Each puppet's character is represented by its appearance and placement onstage; protagonists with strong elements of good are placed to the right, antagonists of violent or evil nature to the left. Citrayuda appears in the Pandawa cycle (derived from the Indian epic Mahabharata) as one of the antagonists, who constantly battle the noble Pandawa brothers. This long standing rivalry between cousins finally ends with the great war, where the Kurawas are utterly defeated.
Iconographic Meaning
Blunt nose, protruding front teeth and arm ornaments indicate negative features, often associated with evil or lack of refinement. Headdress corresponds to a type worn by Citrayuda, one of the lesser known Kurawa brothers. Citrayuda is especially noted for his aggressive nature and lack of intelligence.
Cultural Context
Theatrical performance.
What
Name

Rod Puppet

Identification Number

Ib317

Type of Item

Material

wood, paint and cotton fibre

Manufacturing Technique

Part A

height 65.2 cm, width 13.0 cm, depth 7.5 cm

Part B

height 62.3 cm, width 3.7 cm, depth 2.0 cm

Part C

height 13.0 cm, width 7.5 cm, depth 10.8 cm
Where
Holding Institution

Made in
When
Ownership Date

before March 15, 1983

Acquisition Date

on March 15, 1983
Other
Condition

poor

Accession Number

0886/0051