Textile Item Number: Sf820 a-b from the MOA: University of British Columbia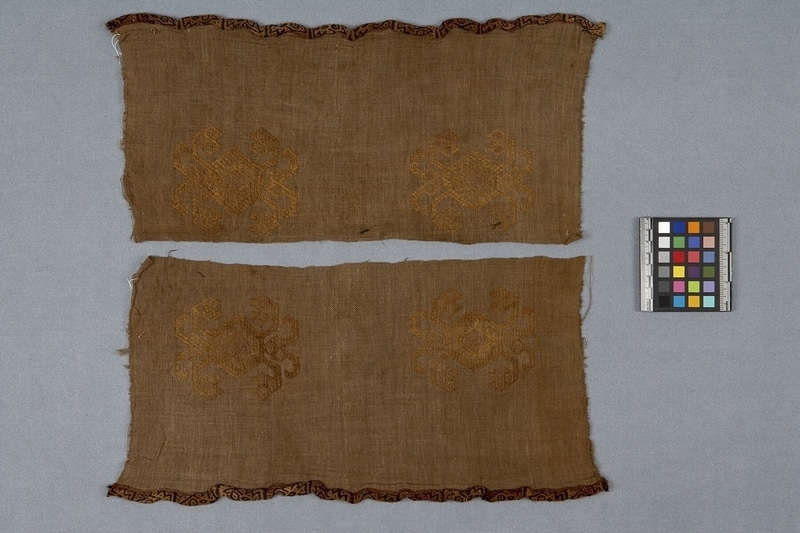 Description
Two cut fragments (part a and b) of brown cotton weave of approximately the same size. Each rectangular piece has two brocaded composite motifs with bird, serpentine and humanoid characteristics. One edge on each piece has a tubular woven border with fish motifs.
History Of Use
The technical and iconographic features are consistent with Chancay fabrics but the use of this type of fabric is unclear.
Iconographic Meaning
The composite, brocade motif has a floating bird in the centre and four serpent heads curving out from the central hexagon. It also has two heads (human ? feline ?) with antenna-like projections. Composite motifs are very frequent in Chancay but their meanings are not clear.
Item History
What
Name

Textile

Identification Number

Sf820 a-b

Type of Item

Material

Manufacturing Technique

Part A

height 43.0 cm, width 20.0 cm

Part B

height 43.0 cm, width 21.0 cm
Where
Holding Institution

Made in
When
Creation Date

between 900 and 1476

Collection Date

between 1949 and 1966

Ownership Date

before May 4, 1981

Acquisition Date

on May 4, 1981
Other
Item Classes

textiles

Condition

good

Current Location

Case 89

Accession Number

0711/0322 a-b