Jar Item Number: M3.41 from the MOA: University of British Columbia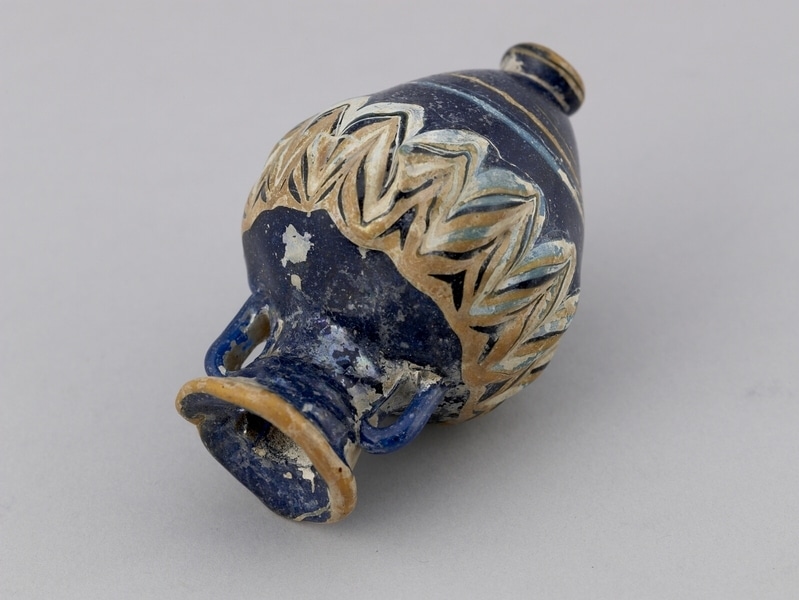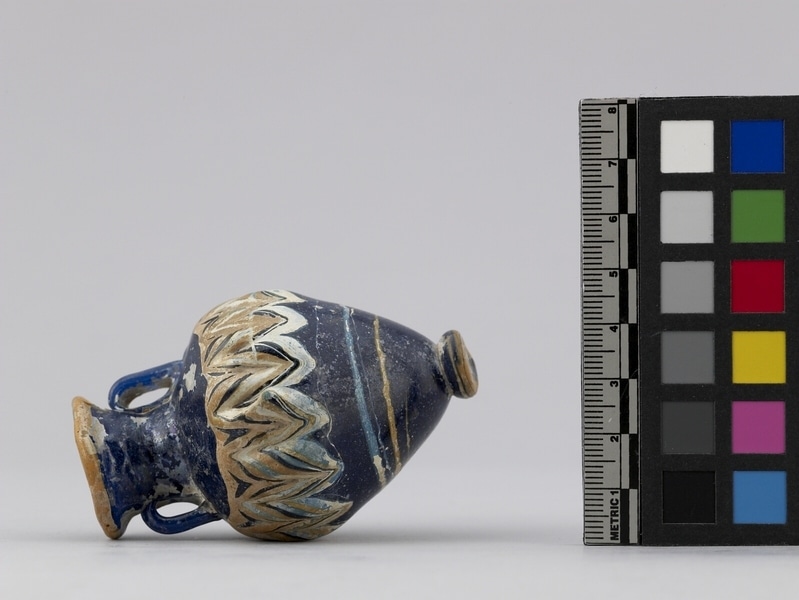 Description
Small dark blue jar with yellow and blue design. The elongated body is rounded at the shoulders and narrows towards the base. The base is a small bead with a flat bottom. The neck is slender and cylindrical leading to a round splayed rim. Two small loop handles are attached to the neck and the shoulders. The jar has a ribbed zigzag design across the body in light blue, yellow and white. There is also yellow around the rim and base. Possibly an amphorisko (ancient vessel used to contain cosmetics, oils and perfumes).
History Of Use
Used to store unguents, oil or perfume. Could also possibly be from Egypt, rather than Syria?
Specific Techniques
Vessel formed by application of molten glass over friable sand or clay core. Molten glass threads of contrasting colour were then wrapped around the vessel and in certain parts were combed up and down with a pointed instrument to create a zigzag pattern. After cooling the vessel was ground and polished. Finally the sand or clay core was removed to leave the vessel hollow.
Narrative
The van Haersolte Collection
What
Name

Jar

Identification Number

M3.41

Type of Item

Material

Manufacturing Technique

Overall

height 7.0 cm, width 4.8 cm, depth 4.7 cm
Where
Holding Institution

Made in

Syria

?
When
Creation Date

between 600 BCE and 301 BCE

Collection Date

during 1890

Ownership Date

before April 26, 1956

Acquisition Date

on April 26, 1956
Other
Condition

good

Current Location

Case 96

Accession Number

2308/0212