Sherd Item Number: Sa353 from the MOA: University of British Columbia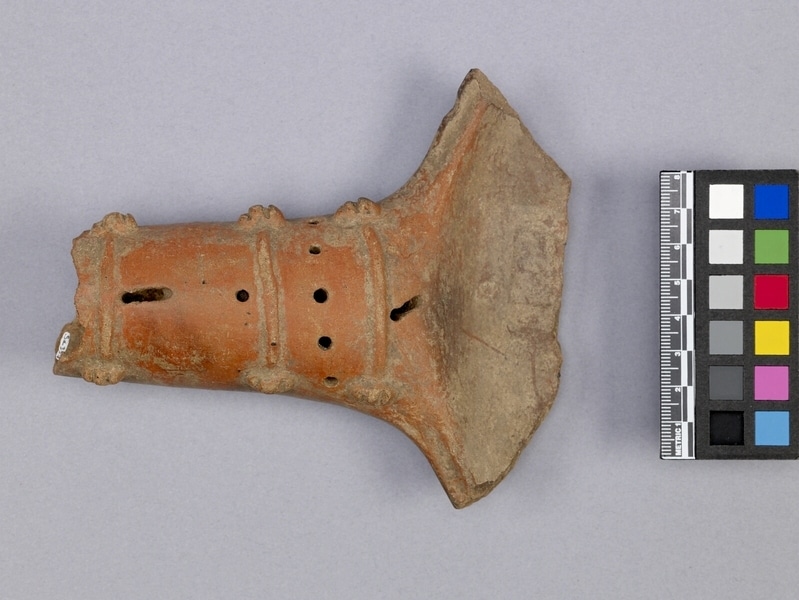 Description
Ceramic incense burner (?) fragment. Orange-red paste, no slip, burnished finish. Hollow tubular handle fragment. Top side has three raised lines, ending on both sides in a knob with two incisions. Diagonal slot at handle and flattened area. Row of five holes between first and second raised lines. Single hole and slot between second and third raised lines. Two raised knobs on back.
History Of Use
Pre-Columbian Costa Rica was part of the transitional zone between the traditions of Meso America and South America. Influences from both areas are evident with the most powerful and extensive coming from the north, particularly for the Pacific area. Possible incense burner fragment.
Narrative
Monochrome red ware; possibly Central Highlands-Atlantic Watershed Archeological Zone, Period VI.
Cultural Context
pottery fragment
What
Who
Culture

Previous Owner

Received from

Frank Berry

(Donor)
Where
Holding Institution

Made in
When
Creation Date

before 1522

Ownership Date

before February 10, 1978

Acquisition Date

on February 10, 1978
Other
Item Classes

ceramics

Condition

fair

Accession Number

0434/0004