Head Cloth Item Number: 2615/6 from the MOA: University of British Columbia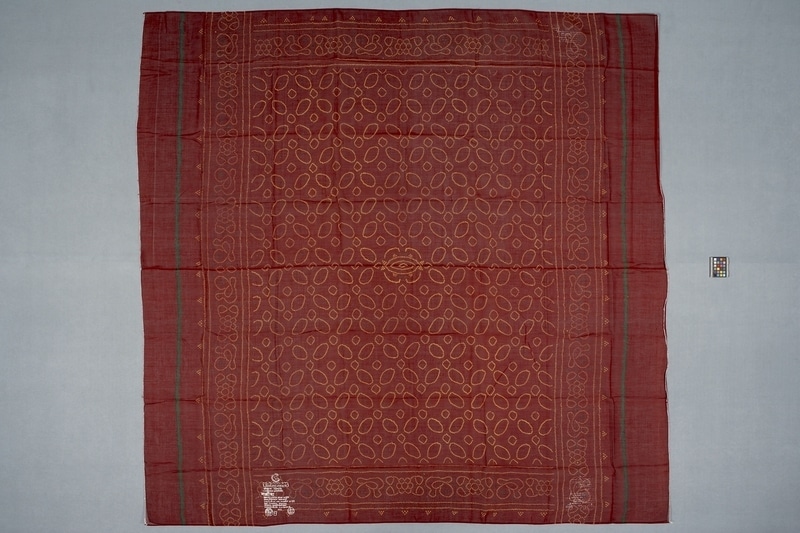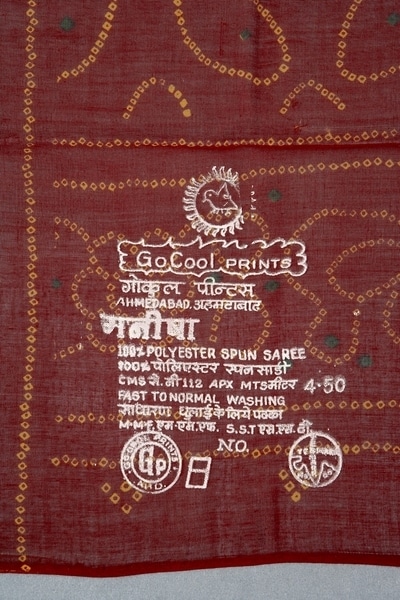 Description
Burgundy-coloured women's head cloth, hemmed on one side and machine-edged with white thread on another. Cloth has a green tie-died stripe on two sides and abstract decorative patterning made with tiny orange squares on the body of the cloth. Maker's mark in two places (see file).
History Of Use
Headcloths of this type were worn by women of the Hindu Koli caste. Members of that caste assisted in the production and gathering of this clothing. The cloth for the clothing was purchased in Kodinar town, 7 km. to the east of Dhamlej. They were worn with elaborate blouses, which were also worn by other castes, and solid-colour skirts. Koli women also wore distinctive jewellery, including small bracelets called bangli in Gujarati made of plastic or gold, silver ankle chains called chhdi, solid silver anklets called sakada, and large gold nose rings called kadi.
Narrative
This head cloth was collected with the help of Hindu Koli people. This collection was gathered with the enthusiastic participation of villagers in Dhamlej, reflecting Derek Johnson's rapport with them. They allowed him to take photographs of them demonstrating how the clothing is put on and worn. These photographs are available in the Museum of Anthropology collection documentation file for accession 2615.
Cultural Context
daily use
Iconographic Meaning
The type of clothing helps to communicate the caste of the wearer.
Item History
Collected during January 1999
Owned by Derek Johnson before February 25, 2004
Received from Derek Johnson

(Donor)

on February 25, 2004
What
Name

Head Cloth

Identification Number

2615/6

Type of Item

Material

polyester fibre and dye

Overall

height 206.5 cm, width 206.0 cm
Where
Holding Institution

Made in
When
Creation Date

between 1998 and 1999

Collection Date

during January 1999

Ownership Date

before February 25, 2004

Acquisition Date

on February 25, 2004
Other
Item Classes

textiles

Condition

good

Accession Number

2615/0006