Jacket Item Number: 376/2 from the MOA: University of British Columbia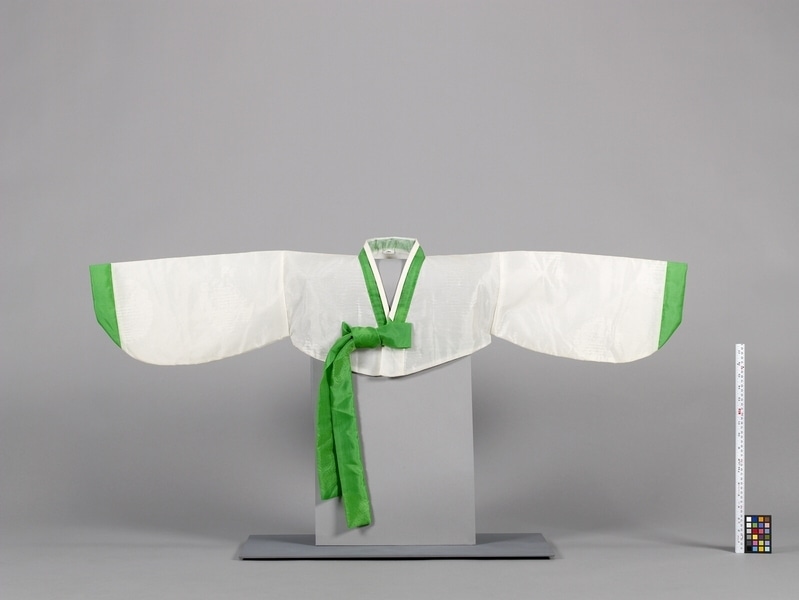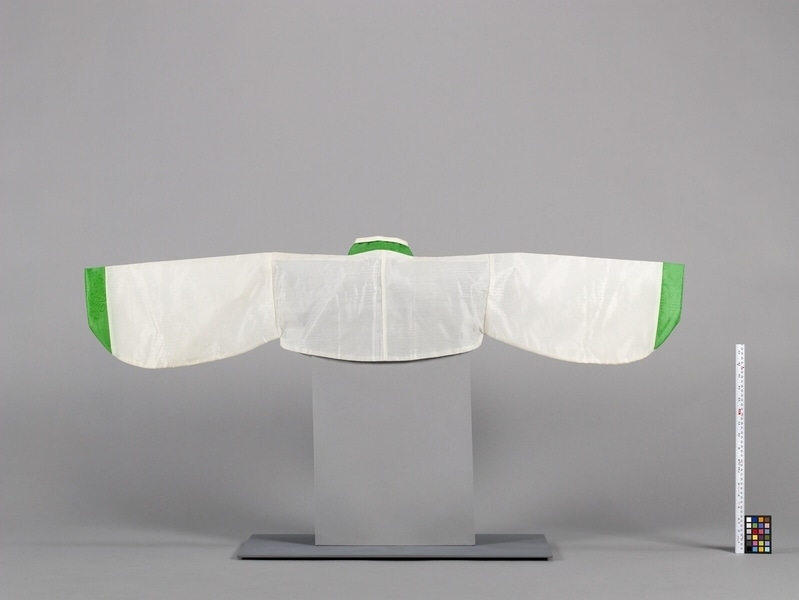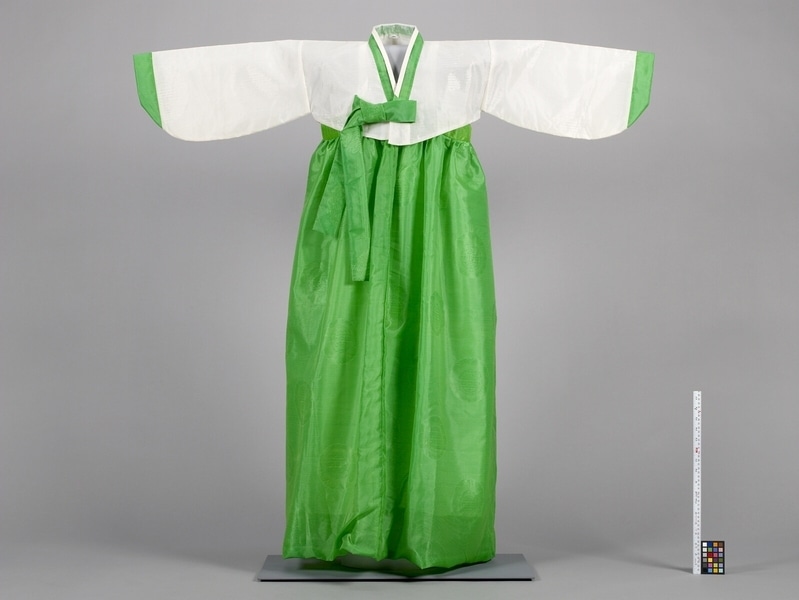 Description
White and green jacket. The jacket is made of shiny stiff white fabric with a woven pattern of roundels enclosing a stylized character. The centre opening overlaps to the right when fastened with long green ribbon ties. The deep V neckline has appliqué green facing. The left outer facing is rounded at the lower edge, while the right is straight and projects beyond the front edge. The neck is finished with a narrow outer facing or collar of white paper covered with sheer fabric. There is a seam down the centre back. The long sleeves are set in with a straight seam and a convex curve on the lower edge, narrowing to the wrist. There is a green band around the wrists. Thin green inner ties are sewn to the right inner facing and the left underarm seam. The inner lining is fine white nylon mesh, with an interfacing of coarser nylon mesh.
History Of Use
Such "Jo-go-ri", made of inexpensive synthetic fabrics and with very rounded sleeves were worn at this time by secondary school students and middle aged married women for occasions such as group dancing and village festivals. Other women would wear "Jo-go-ri" made of multiple colours. The name "Ban-hwae-jang Jo-go-ri", half "hwae-jong Jo-go-ri", refers to the fact that the collar and cuffs were made of different colours from the body. The style of the time around 1970 had very short underarm seams and very rounded sleeves. The inner tie was still necessary for decency because the "Jo-go-ri" was so short. The Korean textile industry had developed to the point that it could produce such synthetic fabrics by this time. By the late 1960s, Korean people generally wore simple clothing so that they could work more efficiently. During the 18 years that Park, Chong-hee was president, the transformation of South Korea from an agricultural country to an industrial one was accomplished, and people were urged to work hard. In compensation, people wore elaborate clothing on special occasions. Clothing of this kind was made in markets, and the relatively rough finishing, with the fabrics folded inside at the seams, is typical of that work.
Narrative
According to information provided by the donor, she purchased this set of clothing in a market in Seoul in 1970.
Specific Techniques
The garment is machine sewn except for the stitches attaching the white collar, which are done by hand. The ribbon ties were sewn inside out and then reversed.
What
Where
Holding Institution

Made in
When
Creation Date

before 1971

Collection Date

during 1970

Ownership Date

before April 10, 1977

Acquisition Date

on April 10, 1977
Other
Item Classes

textiles

Condition

good

Accession Number

0376/0002