Socks Item Number: 376/6 from the MOA: University of British Columbia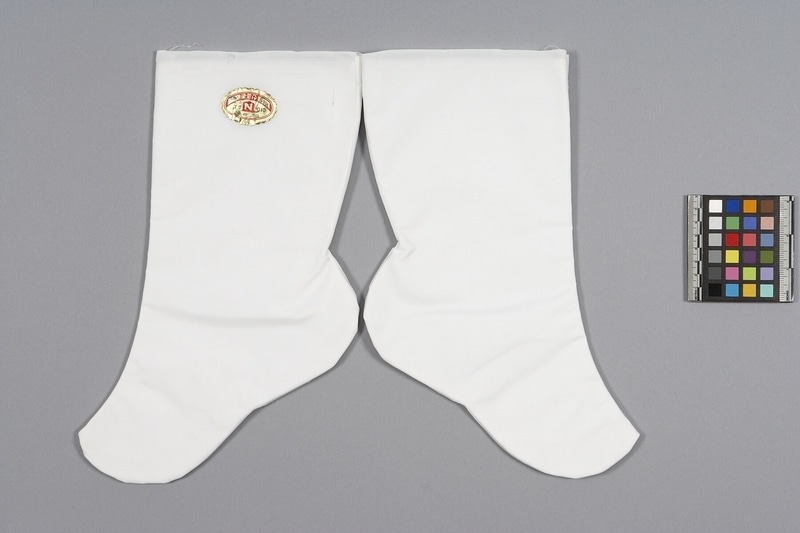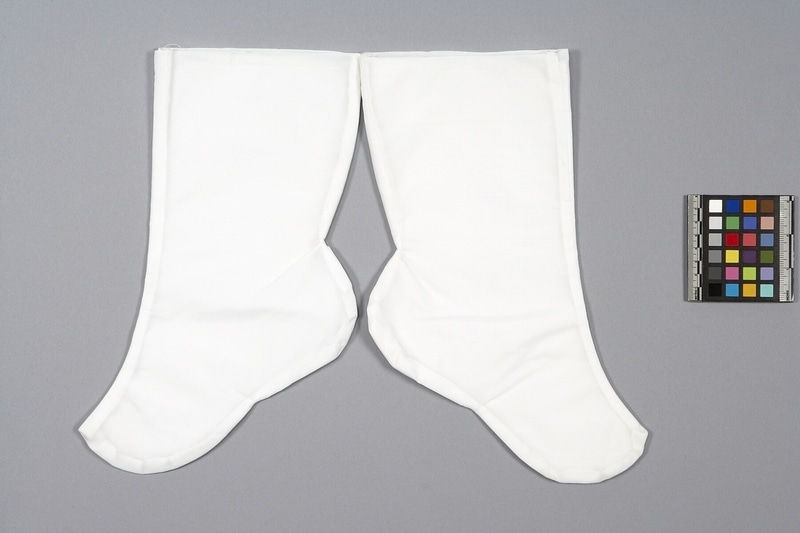 Description
Pair of white socks (part a-b). The sock has wide ankles, rounded heel and foot angled downward. Two layers of fabric are sewn together around the edge. The outer is of heavy white nylon fabric, and the inner layer is heavy white cotton fabric. The cotton layer has a machine stitched hem at the top. A gold and red paper label is pasted on one side of each sock.
History Of Use
The socks are traditional in profile and in the fact that the seam is enclosed, but they are not fully finished as earlier socks would have been, and the nylon fabric is an innovation of that period. They were designed to be worn with traditional shoes, not western shoes. The way they are constructed, with the two layers sewn at the sides and bottom but left open at the top, is typical of this period. They were mass-produced in a village factory, not made by hand. "Bo-son", Korean style socks, are no longer popular.
Narrative
According to the donor, she purchased this set of clothing in a market in Seoul in 1970.
Specific Techniques
The socks are sewn with machine stitching. The layers were sewn together with the socks inside out, and then they were reversed, so that the seam is enclosed.
What
Name

Socks

Identification Number

376/6

Type of Item

Material

Manufacturing Technique

Overall

height 33.0 cm, width 17.0 cm
Where
Holding Institution

Made in
When
Creation Date

before 1971

Collection Date

during 1970

Ownership Date

before April 10, 1977

Acquisition Date

on April 10, 1977
Other
Item Classes

textiles

Condition

good

Current Location

Case 77

Accession Number

0376/0006