Dowry Bag Item Number: 1098/2 from the MOA: University of British Columbia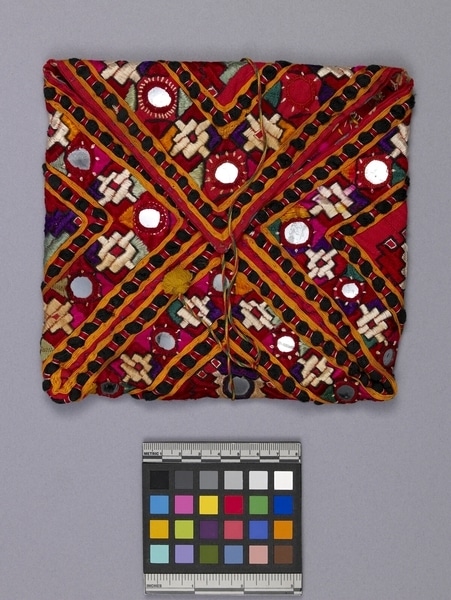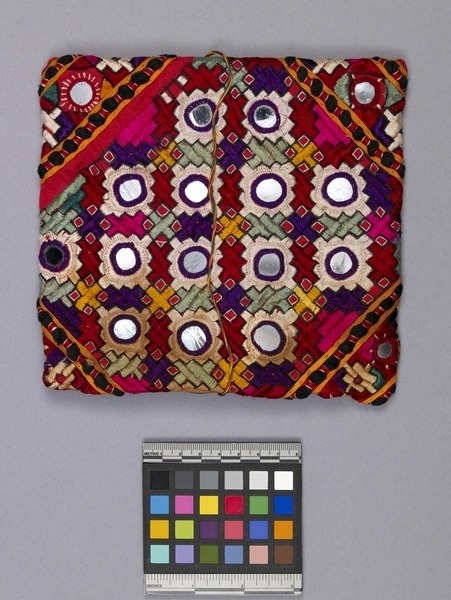 Description
Small, square, flat, envelope-style dowry bag or purse made by bringing three corners of a square together, using the fourth corner as a triangular flap. Heavily embroidered with square and X-shaped, brightly coloured geometric designs and round mirrors. Loosely twisted fibre cords (red, yellow and green; 52.5 cm in length) with a yellow pompom, are used to fasten the flap shut. The embroidery is underlined with red printed cotton textile.
History Of Use
Used to carry valuable items at wedding festivities.
Specific Techniques
Techniques of stitching: satin stitch; buttonhole stitch; stem stitch; couched stitch; fly stitch. This style of embroidery is called "kharek."
Narrative
This dowry bag was purchased by William McLennan at Threadlines Gallery in Islamabad, Pakistan, in 1985 while he was on assignment for the Museum of Anthropology, which had a contract with the administration of Expo '86 to set up the Pakistan pavilion at the fair. The Museum purchased it, along with the other items in the 1098 accession, from McLennan in 1986.
What
Name

Dowry Bag

Identification Number

1098/2

Type of Item

Material

Manufacturing Technique

cut, sewn, embroidered and appliqued

Overall

height 27.4 cm, width 18.7 cm
Who
Culture

Field Collector

Previous Owner

Received from
Where
Holding Institution

Made in
When
Creation Date

before September 1985

Collection Date

during 1985

Ownership Date

between September 1985 and January 30, 1986

Acquisition Date

on January 30, 1986
Other
Item Classes

textiles

Condition

good

Accession Number

1098/0002