The Raven and the Big Halibut Fisherman Item Number: 2688/2 from the MOA: University of British Columbia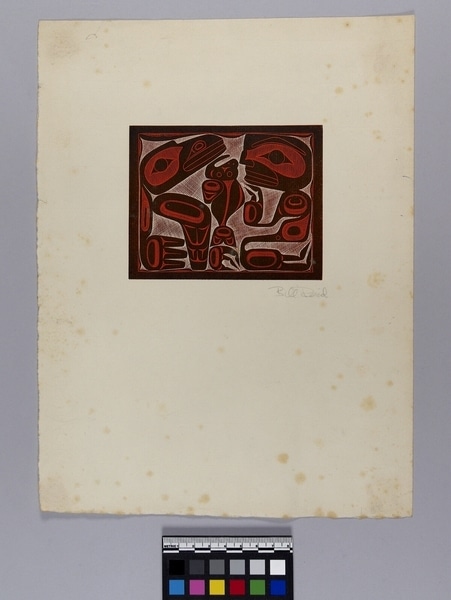 Description
Black and red version of the print. Depicted are: a left-facing man at the far right of the image; a right-facing raven at the far left of the image; and a vertical central halibut with its head toward the top of the image. The image itself is centred horizontally and its vertical orientation is further toward the top than the bottom of the paper. Artist name signed in pencil at lower right below image.
Narrative
According to the Bill Reid Gallery and Robert Bringhurst's book, "Solitary Raven," the print is called "The Raven and the Big Halibut Fisherman." However the print has also been referred to as "The Blind Halibut Fisherman" and the "Master Fisherman." Another MOA version of this print is labeled "An Episode in the Haida Raven Myth". There are black, black and red, and black and blue versions of the print; all the versions in the MOA collection are coloured differently.
Specific Techniques
Relief print from an engraved silver block, depicting the raven and the big halibut fisherman; printed bichrome and monochrome by Rober R. Reid, c. 1958.
What
Name

The Raven and the Big Halibut Fisherman

Identification Number

2688/2

Type of Item

Image

height 9.6 cm, width 12.2 cm

Overall

height 31.5 cm, width 23.4 cm
Who
Culture

Creator

Previous Owner

Received from
Where
Holding Institution

Made in
When
Creation Date

during 1958

Ownership Date

before May 24, 2007

Acquisition Date

on May 24, 2007
Other
Item Classes

works on paper

Condition

fair

Accession Number

2688/0002