Soul Catcher Item Number: A150 from the MOA: University of British Columbia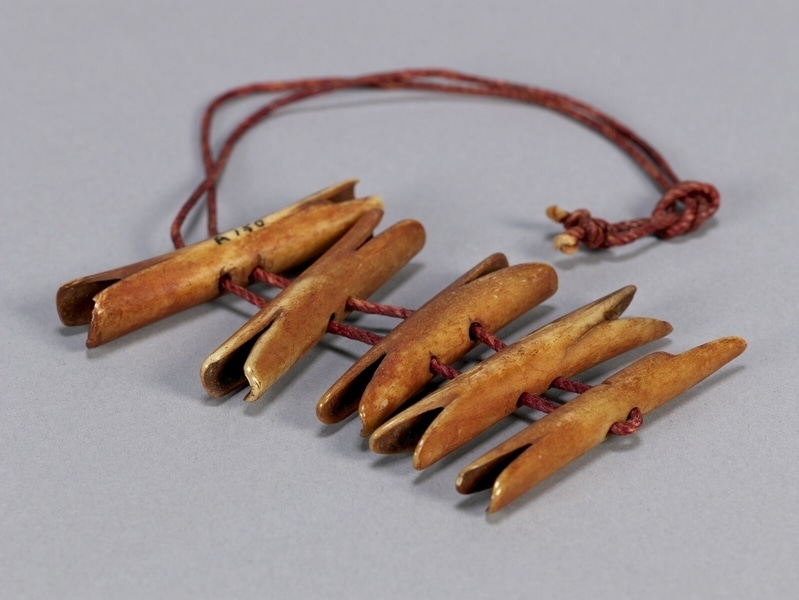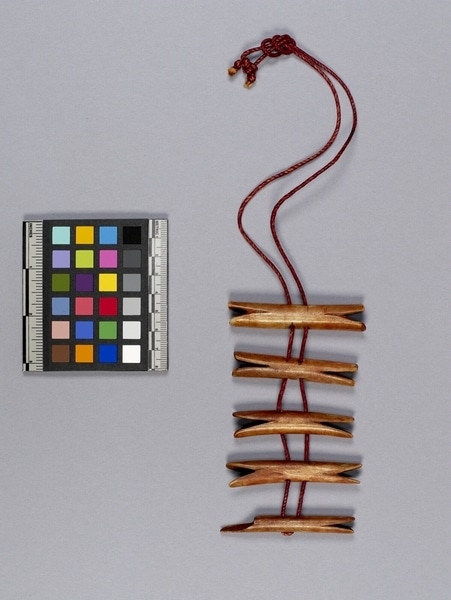 Description
Five bone soul catchers strung together on a string, carved with both ends open, and stained with red ochre.
History Of Use
Soul catchers were used by a shaman to capture and return souls that had left the body, thus causing illness. Originally cedar bark plugs were used in the openings at either end to contain the spirits or souls, that had been captured to return to a host.
Narrative
According to Burnett, this outfit (A146, A149-A153, A155-A157) "...belonged to the late Medicine Man Najieksum Illthpooen (the tail of the whale), of the Kityelash tribe, the people who live by the strong water, Port Essington District ... and was purchased from his widow by the Methodist Missionary of that district."
Cultural Context
Part of a shaman's outfit; doctor's charm; soul trap; soul catcher
What
Name

Soul Catcher

Identification Number

A150

Type of Item

Material

bone, cedar bark and ochre pigment

?

Manufacturing Technique

Overall

height 20.0 cm, width 8.7 cm, depth 1.7 cm

Image

height 18.8 cm, width 7.8 cm, depth 1.7 cm
Where
Holding Institution

Made in

Collected in
When
Creation Date

before 1927

Collection Date

between 1920 and 1927

Ownership Date

before 1927

Acquisition Date

on July 25, 1927
Other
Condition

good

Current Location

Case 17

Accession Number

2191/0182