Power Board Item Number: A9081 from the MOA: University of British Columbia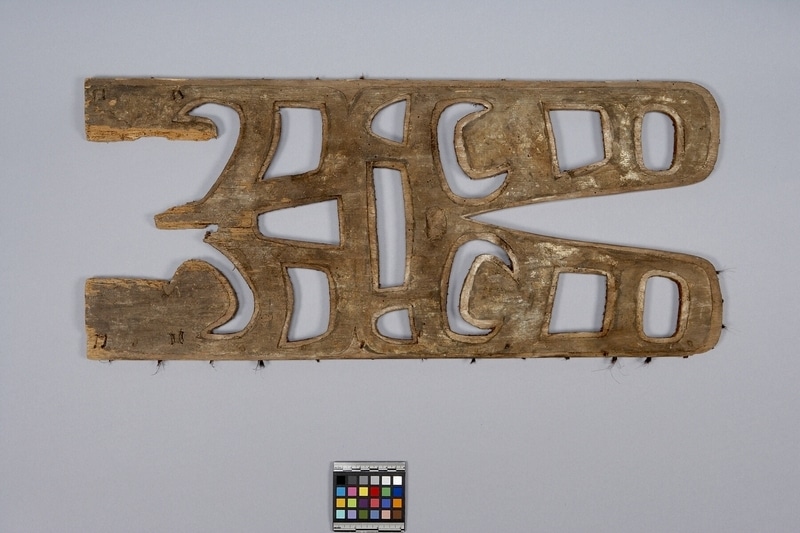 Description
Wooden figure consisting of the top section of a duntsik or power board used in winter dances. The design is cutout with Northwest Coast stylized form and outlined in black paint. The image represented is a sisiutl. There is hair adhered to the sides. Fragment of larger object.
History Of Use
Conjured up by Tokwit Dancer in the ritual of the Winalagalis.
The boards were originally fastened together, when required, by male and female dowels.
Narrative
Found in a rock cavern half way between Hayden Bay and Crosby Point, Loughborough Inlet, by a fisherman. According to the fisherman, he was told of the existence of the boards in a cave or rock cavern in the Hayden Bay area of Loughborough Inlet, by an Indian who knew of them for many years but would not touch them himself. The fisherman took the Indian on board his boat, visited the site, and recovered the boards. He stated that the boards lay in what had been a cedar covering box, with a lid hinged with gut. This box fell apart at his touch and none of it could be recovered. No other relics or any burial evidence lay in the rock cavern.
What
Where
Holding Institution

Made in
When
Collection Date

during 1969

Ownership Date

before February 1969

Acquisition Date

during February 1969
Other
Condition

poor

Accession Number

0155/0006