Dreaming Graffiti Item Number: 3280/1 from the MOA: University of British Columbia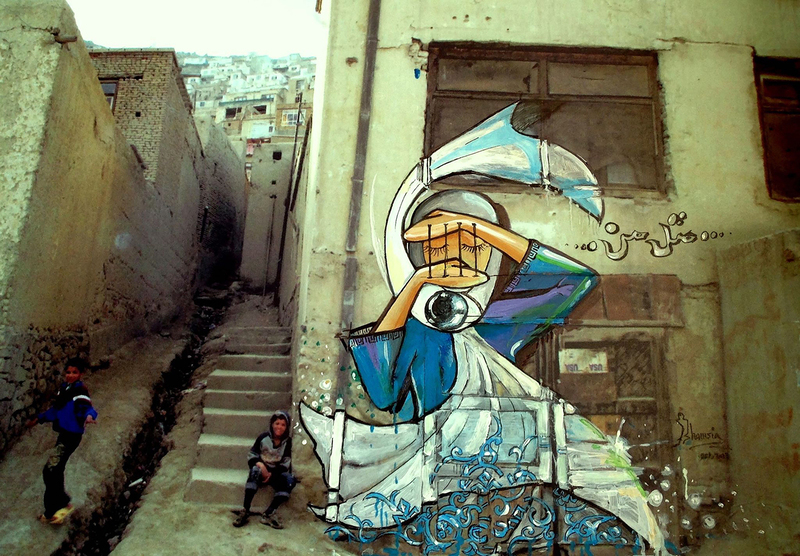 Description
Photograph printed on plexiglas, showing a large mural-like painting. Image shows two boys on the left against a backdrop of stairs and an alley, houses in the distance. On the right is a light coloured wall with a brown window at top and covered doorway below. The graffiti image is painted over the image of the wall, and shows a woman with closed eyes covering her mouth and forehead with her hands. Her hijab surrounds her face, lifting away from her head to the right and fluttering in front of her blue robe at bottom. There is Arabic text to the right of the figure. There is a curling motif in blue at the bottom.
History Of Use
This photographic reproduction was made in Vancouver for the exhibition "Traces of Words". The original of this image consists of a painting on a digital print of a photograph taken in Kabul, Afghanistan.
Narrative
The text reads: "Like me (looking like me)".
What
Name

Dreaming Graffiti

Identification Number

3280/1

Type of Item

Overall

height 45.5 cm, width 61.0 cm
Who
Culture

Creator

Previous Owner

Received from
Where
Holding Institution
When
Creation Date

during 2012

Ownership Date

before October 14, 2017

Acquisition Date

on October 14, 2017
Other
Condition

excellent

Current Location

Case 108

Accession Number

3280/0001