Fuscilamiento Item Number: 3289/65 from the MOA: University of British Columbia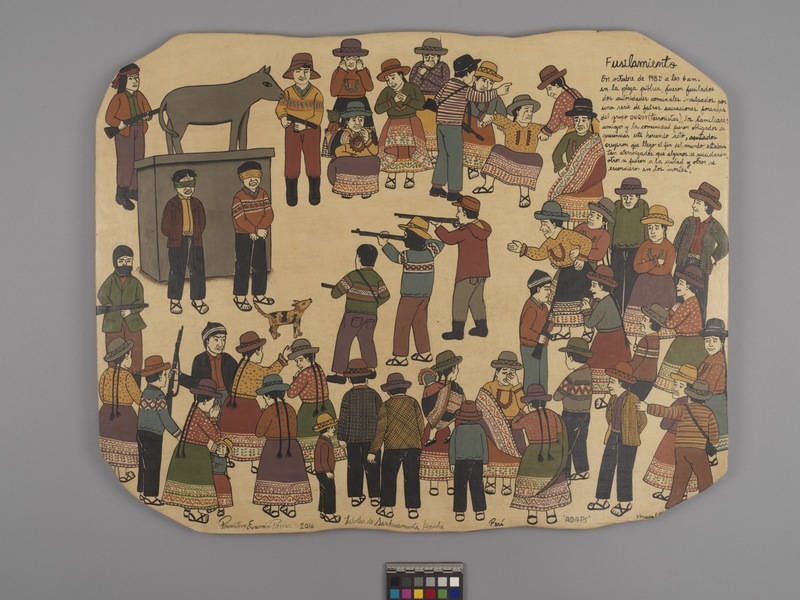 Description
Wooden panel covered in plaster or gesso and painted. Tabla shows the assassination of community authorities by 'Shining Path' insurgents. The men with rifles are wearing balaclavas. This episode in the series evidences the reaction of the Maoist group to the destruction of the local community centre by State military. This act constituted a counter-threat.
Narrative
Fuscilamiento (Shooting / Firing Squad), from the series 'Piraq Causa' (Quechua; Who is to Blame?). Number 3 in the series. A new painting format, executed on rectangular boards, was used to document the "times of danger" that resulted in the death of many Indigenous inhabitants of Ayacucho in the 1980s. The tradition of testimonial painting in Sarhua was radically transformed during the armed conflicts involving the Maoist 'Shining Path' movement and the State military. The Piraq Causa series denounces the human rights abuses committed by both guerrilla members and the state military. In some cases, these pictorial documents strategically exclude certain elements of the narrative, such as the hammer and sickle (showing people's initial sympathy for the communist revolutionaries). Absences have emotional nuance in that they give expression to traumatic gaps in Sarhuino history. According to Primitivo and his family, by the time the conflict had escalated, it was unclear who the attackers were (Sinchis dressed as Maoists and the other way round), all vying for allegiance and information. Following these 'times of danger,' many Sarhuinos left rural Ayacucho, in many cases for Lima. As a result much of the tradition and knowledge behind this painting tradition is being lost.
Cultural Context
Reproduction of an original tabla (painting) by the maker's father, Primitivo Evanán Poma.
What
Name

Fuscilamiento

Identification Number

3289/65

Type of Item

Overall

height 52.5 cm, width 66.0 cm, depth 2.5 cm
Who
Culture

Creator

Field Collector

Previous Owner

Received from
Where
Holding Institution

Made in
When
Creation Date

during 2018

Collection Date

between 2017 and 2018

Ownership Date

before April 11, 2018

Acquisition Date

on April 11, 2018
Other
Item Classes

paintings

Condition

good

Accession Number

3289/0065