Hat Item Number: 3357/3 from the MOA: University of British Columbia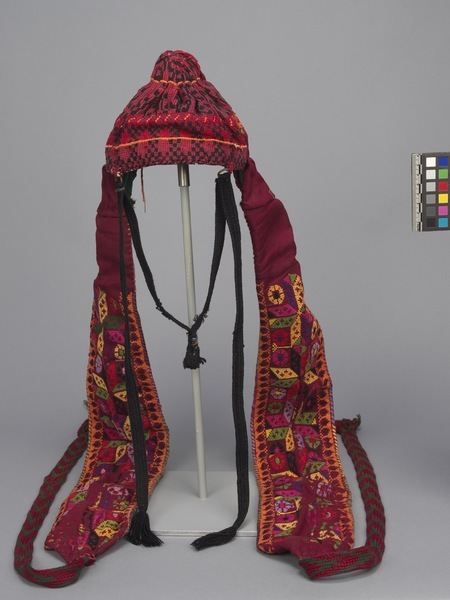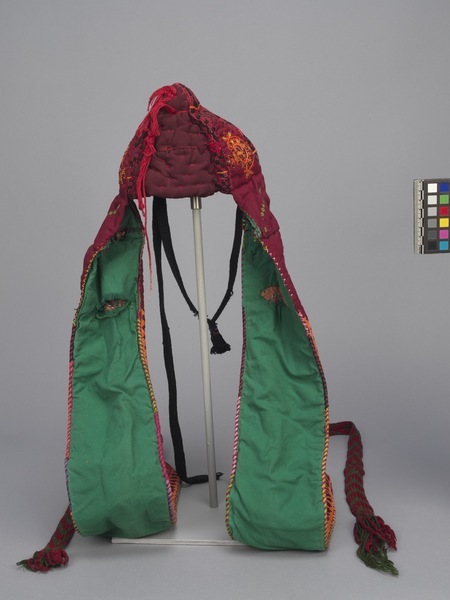 Description
Hat with a pointed gathered fabric top. The front of the hat is heavily embroidered with burgundy and black checkerboard design, and the back is plain burgundy fabric. The interior is lined with a light off-white fabric. On each side, a long burgundy fabric flap hangs, both heavily cross stitched in bright geometric designs, with a length of dark green and dark red cord with a flat cross-section. The left cord has a short fringe, and the right cord has a long fringe. The burgundy flaps are lined with a green fabric with oval cutouts at ear level. Attached to the hat is a black cord with a flat cross-section that is stitched to a metal loop on either side of the rim of the face, leaving a length of cord dangling on each side.
Narrative
Given to the donors by a man in Jerusalem who owned several shops where he sold similar items. He said he collected the pieces himself, in the area around Jerusalem and in Jordan.
What
Name

Hat

Identification Number

3357/3

Type of Item

Material

cotton fibre, silk fibre and metal

Overall

height 154.5 cm, width 19.0 cm, depth 11.0 cm
Where
Holding Institution

Made in

"Asia"

?
When
Ownership Date

before April 17, 2019

Acquisition Date

on April 17, 2019
Other
Item Classes

textiles

Condition

fair

Accession Number

3357/0003