Tile Item Number: 3401/2 from the MOA: University of British Columbia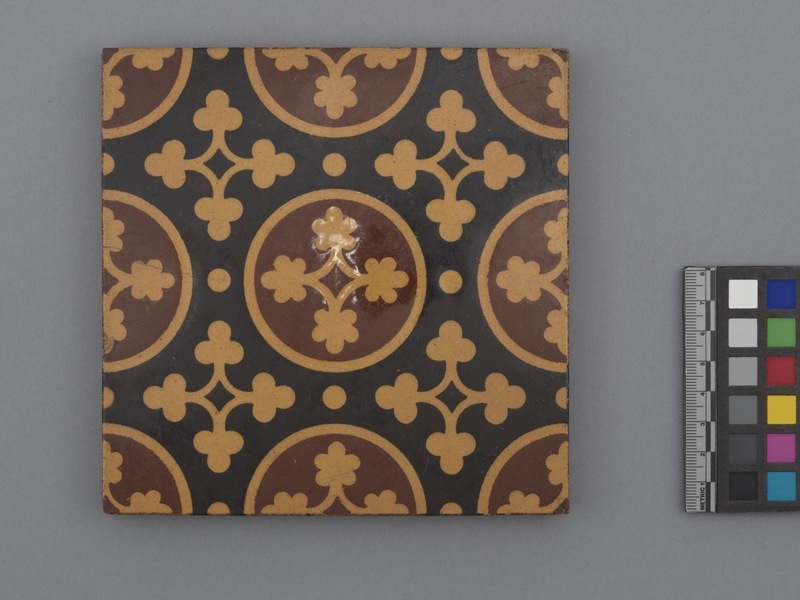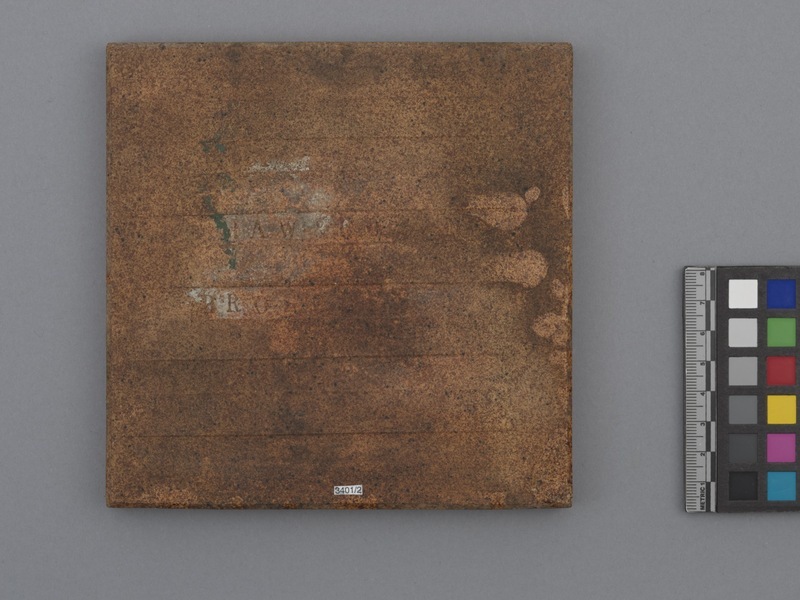 Description
Square ceramic tile with geometric and floral motifs painted on front. Surface is glazed, sides are partially glazed. Background of tile painted black. Across front are three rows of dark brown circles, outlined in dark yellow. Inside of circles are stylized diamonds with flowers, done in dark yellow. Between the lines of circles are rows of the same stylized diamonds with flowers, but with fewer petals than the ones inside of the circles, done in dark yellow. Between each diamond is a dark yellow dot. Sides of tile undecorated. Five horizontal ridges on back of tile. Manufacturer's mark, Maw & Co., stamped along ridges.
Iconographic Meaning
Design is an imitation of English medieval tile patterns.
Specific Techniques
Tile was manufactured by dust-pressing, a technique that uses clay that is milled to a fine powder with low moisture content, which is then pressed in a die at high pressure. The design is inlaid, produced by pouring two slip clays into an imprinted design on the tile's surface.
Cultural Context
Floor tile.
What
Name

Tile

Identification Number

3401/2

Type of Item

Material

Manufacturing Technique

inlaid and dust-pressed

Overall

height 15.3 cm, width 15.3 cm, depth 1.6 cm
Who
Culture

Creator

Previous Owner

Received from
Where
Holding Institution

Made in
When
Creation Date

between 1850 and 1900

Ownership Date

before October 30, 2019

Acquisition Date

on October 30, 2019
Other
Item Classes

ceramics

Condition

good

Accession Number

3401/0002