Veil Item Number: 1472/6 b from the MOA: University of British Columbia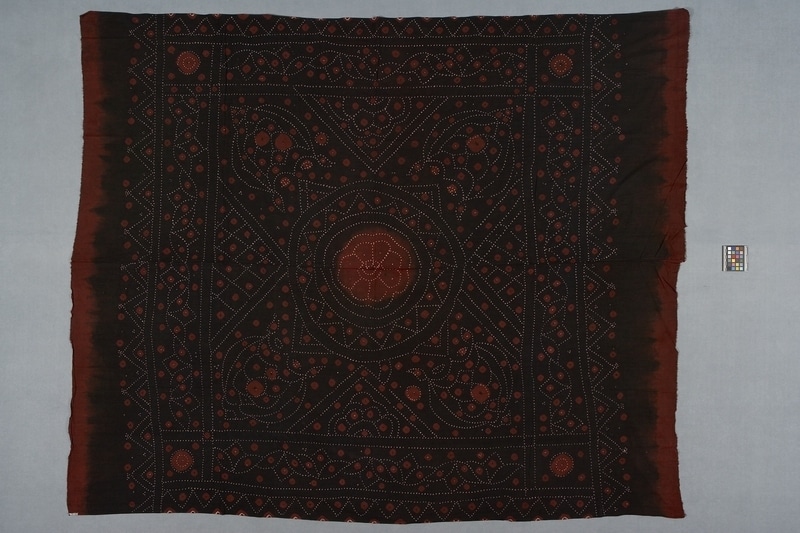 Description
Woman's dark red and black, tie-dyed, cotton veil; decorated with off-white tie-dyed dots that form geometric, linear and curvilinear patterns. In the center is a round black medallion within a square, dark red panel; there are black borders on all four sides. The veil is constructed from two nearly-identical sections that are seamed together down the center with machine stitching.
History Of Use
To be worn with a matching skirt (1472/6 a) and a backless blouse (choli or kancheeri), along with ivory or white plastic bracelets covering the upper and lower arms, as wedding attire by brides who are members of a particular caste. Subtle differences in design, colour and pattern occur among different villages. A women purchases the skirt and veil from a printer for her daughter's wedding.
Cultural Context
ceremonial
Iconographic Meaning
The colour red symbolizes blood and life. It is associated with weddings and is always included in dowry garments. There are references to tie-dyed cloth as symbolic of fidelity in Sindhi folk poetry.
Specific Techniques
Bandhani means "to tie." Before dyeing, the textile is printed with the design using a wooden block and a temporary dye that washes out. A continuous string, which has been dipped in wax, is used to firmly tie all the pattern elements on the piece before dyeing. After dyeing and washing, the string is removed.
What
Name

Veil

Identification Number

1472/6 b

Type of Item

Material

cotton fibre and dye

Manufacturing Technique

Overall

height 201.8 cm, width 169.7 cm
Who
Culture

Field Collector

Previous Owner

Received from
Where
Holding Institution

Made in
When
Collection Date

during 1979

Ownership Date

before March 18, 1991

Acquisition Date

on March 18, 1991
Other
Item Classes

textiles

Condition

good

Accession Number

1472/0006 b