Staff Item Number: 3326/21 from the MOA: University of British Columbia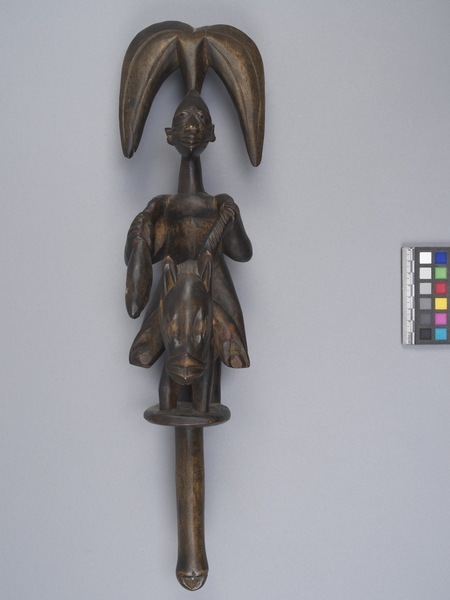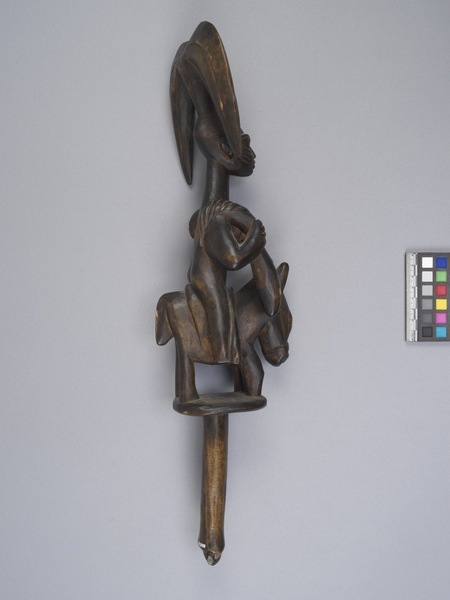 Description
Wood carving depicts a male figure riding on horseback with a snake(?) draped over his shoulders. The horse is disproportionately small. His elongated head sits at an angle on his long neck. He has large almond eyes, and three horizontal lines on each cheek. Extending up from his head is a large double axe-shaped headdress that curves down to points on each side. The handle is cylindrical and plain with a small looped end.
History Of Use
Shango staff, or dance wand.
Narrative
Assumed to have been collected by Lieber while he was living in Nigeria (1965-1970), lecturing at the University of Ibadan under the auspices of CIDA.
What
Who
Culture

Previous Owner

Received from

Iris Lieber

(Donor)
Where
Holding Institution

Made in
When
Collection Date

between 1965 and 1970

Ownership Date

before 2015 and before June 18, 2018

Acquisition Date

on June 18, 2018
Other
Condition

good

Accession Number

3326/0021