Dagger Item Number: 3326/47 a-b from the MOA: University of British Columbia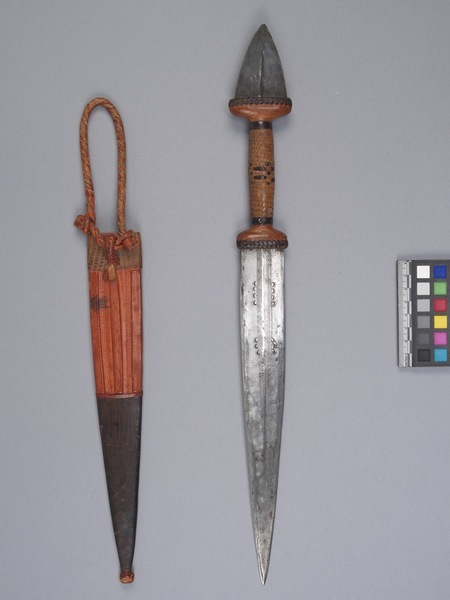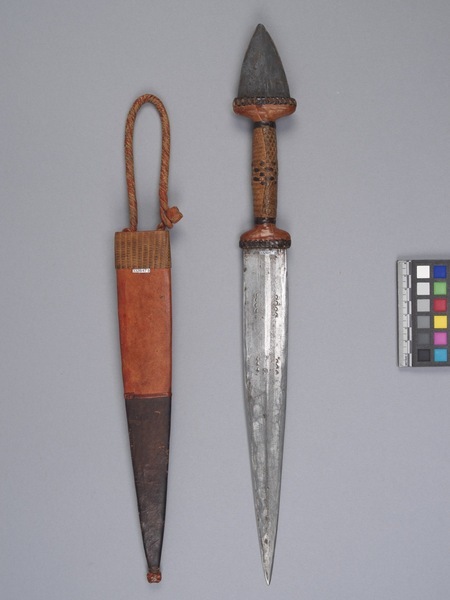 Description
Dagger (part a) with a leather sheath (part b). Dagger with long steel(?) blade on one end and short triangular iron blade on the opposite end. The long blade is stamped with small crescent shapes fourteen times in two columns of seven near widest end of blade. Hilt made of wood covered with leather, band of reptile skin around centre of hilt. Sheath made of leather with reptile skin at opening and knotted at pointed end. A twisted cord of leather is attached to a small loop at the top of the sheath.
Narrative
Assumed to have been collected by Lieber while he was living in Nigeria (1965-1970), lecturing at the University of Ibadan under the auspices of CIDA.
What
Name

Dagger

Identification Number

3326/47 a-b

Type of Item

Material

steel metal

?

, skin, reptile skin and iron metal

Part A

height 43.2 cm, width 4.8 cm, depth 2.0 cm

Overall

height 44.0 cm, width 4.8 cm, depth 2.5 cm
Who
Culture

Previous Owner

Received from

Iris Lieber

(Donor)
Where
Holding Institution

Made in

Nigeria

?
When
Collection Date

between 1965 and 1970

Ownership Date

before 2015 and before June 18, 2018

Acquisition Date

on June 18, 2018
Other
Item Classes

metalwork

Condition

good

Accession Number

3326/0047 a-b