Tile Item Number: 3401/6 from the MOA: University of British Columbia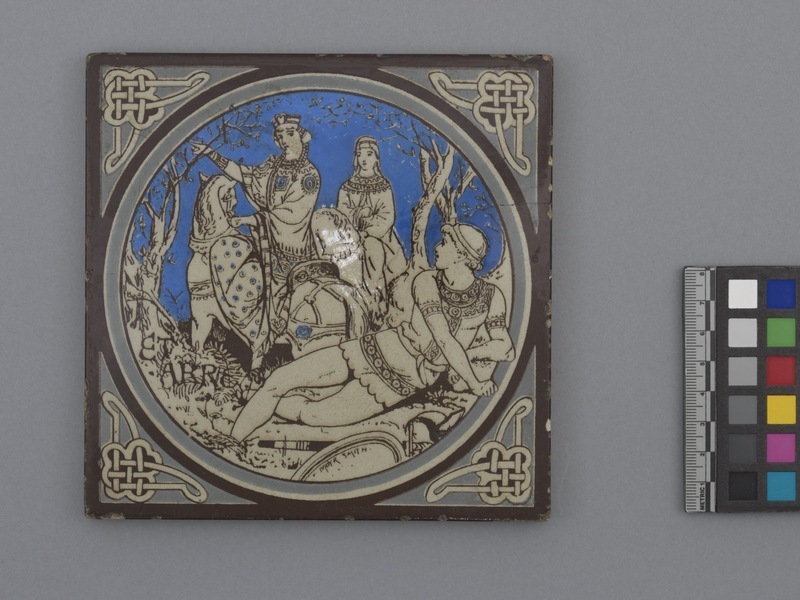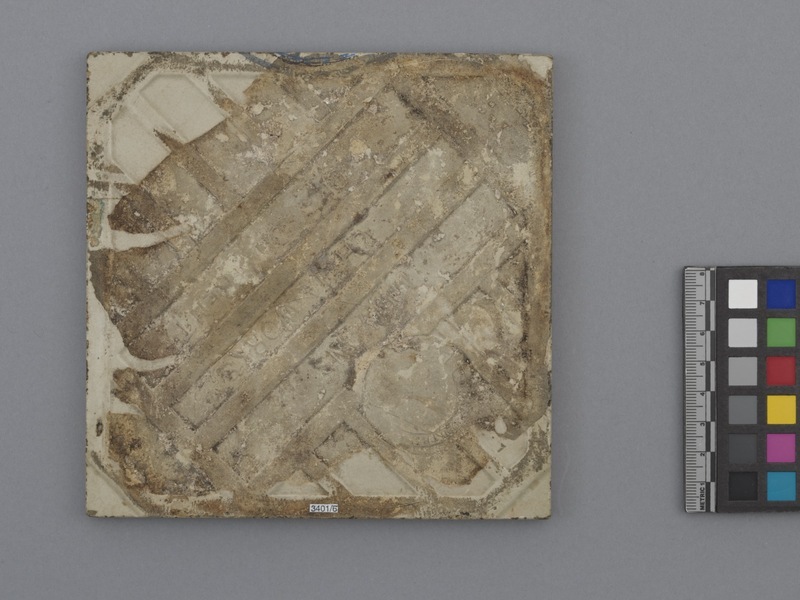 Description
Square ceramic tile with scene painted on front. Surface, sides and parts of bottom are glazed. Central design of three figures in a wooded area, done in light grey, inside of a blue circle. Two figures are on horseback, a man and woman, and a second man is lying on the ground. The reclining man is in the foreground, with a sword and shield in front of him. The tile designer's name is written on the shield. The man on horseback is wearing a crown, pointing towards the left side of the tile. All are well dressed. The blue circle the figures are inside is outlined in light grey-green and black. Edges of tile outlined in black. Stylized knots, done in light grey-green, in the four corners of the tile. Top and bottom sides of tile decorated with blue lines. Diagonal ridges on back of tile. Manufacturer's mark, Minton China Works, stamped in between ridges.
Iconographic Meaning
The tile depicts the scene of Pelleas and Etarre from Idylls of the King by Alfred, Lord Tennyson. The collection of poems, first published in 1859, is about King Arthur and the Knights of the Round Table. In the passage, Pelleas, a knight, falls in love with Etarre but she rejects him. Gawain, a fellow knight, pledges to help Pelleas court Etarre but instead Gawain betrays him. When Pelleas finds Gawain and Etarre in bed together he leaves Arthur's court disillusioned. The shield on the ground has the name of the designer of the tile, John Moyr Smith.
Specific Techniques
Tile was manufactured by dust-pressing, a technique that uses clay milled to a fine powder with low moisture content, which is then pressed in a die at high pressure. The design was printed onto the tile using three different colours.
Cultural Context
Wall tile.
What
Name

Tile

Identification Number

3401/6

Type of Item

Material

Manufacturing Technique

Overall

height 15.3 cm, width 15.3 cm, depth 1.2 cm
Who
Culture

Creator

Previous Owner

Received from
Where
Holding Institution

Made in
When
Creation Date

between 1860 and 1900

Ownership Date

before October 30, 2019

Acquisition Date

on October 30, 2019
Other
Item Classes

ceramics

Condition

good

Accession Number

3401/0006