Tile Item Number: 3401/36 from the MOA: University of British Columbia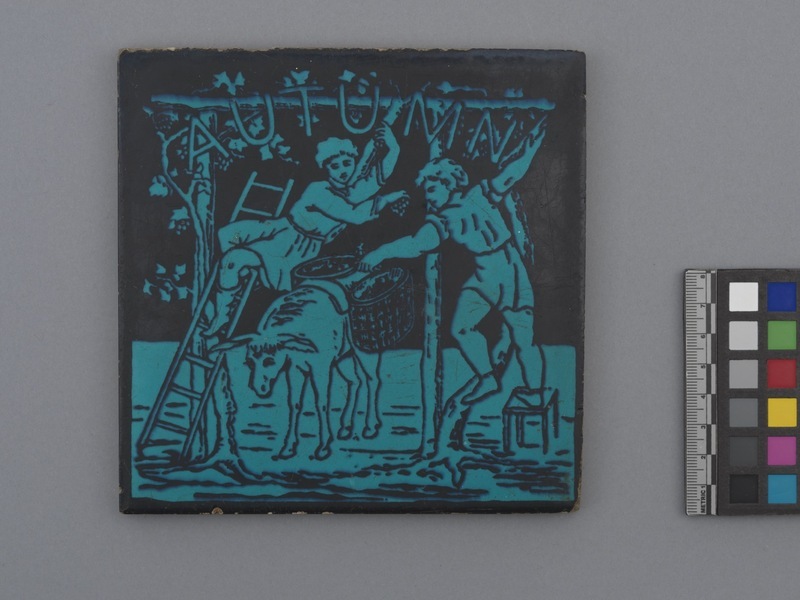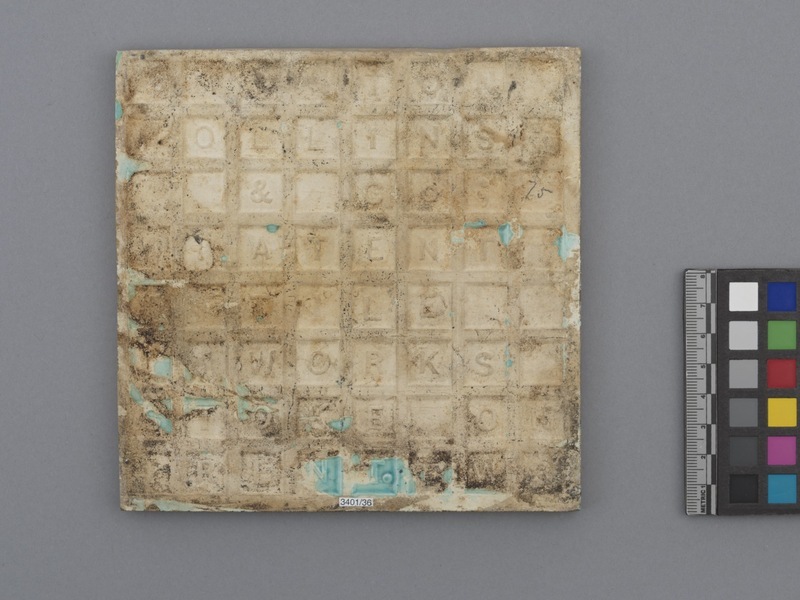 Description
Square ceramic tile with scene painted on front. Surface is glazed. Background is black and all other design components done in dark teal. Central design of two figures, one sitting on a ladder and the other standing on a stool, pulling grapes off a trellis(?). Both have short hair. The figure on the ladder is a female, wearing a dress and high boots. The figure on the stool is a male, wearing shorts and a shirt with the sleeves rolled up. Both are putting the grapes from the trellis(?) into baskets on the back of a donkey, between the two of them. "Autumn" written, in a slight arc, along the top edge of the tile. Raised grid across entire back of tile. Manufacturer's mark, Minton' Hollins & Co., stamped on back. Inscription on back.
Iconographic Meaning
This tile is part of a seasons of the year series, this tile representing Autumn. Grapes are depicted because they are a symbol of Autumn and picked in September.
Specific Techniques
Tile was manufactured by dust-pressing, a technique that uses clay milled to a fine powder with low moisture content, then pressed in a die at high pressure.
Cultural Context
Wall tile. Minton, Hollins & Co.
What
Who
Culture

Creator

Previous Owner

Received from
Where
Holding Institution

Made in
When
Creation Date

between 1860 and 1900

Ownership Date

before October 30, 2019

Acquisition Date

on October 30, 2019
Other
Item Classes

ceramics

Condition

fair

Accession Number

3401/0036