Tile Item Number: 3401/19 from the MOA: University of British Columbia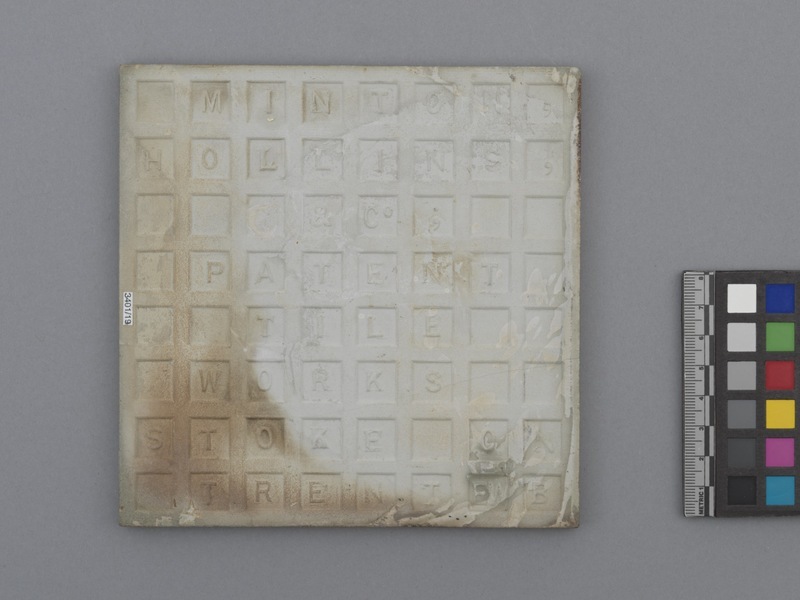 Description
Square ceramic tile painted black with light grey-blue designs overtop. Surface is glazed, sides partially glazed. Border on all sides with rectangles inside of it. Rectangles filled with diagonal lines. Small squares at the tile corners, inside of the border, with crosses in their middles. Central design of a sandpiper, standing on one leg, surrounded by reeds. Raised grid across entire back of tile. Manufacturer's mark, Minton Hollins & Co., stamped inside grid, with each letter in its own square.
Iconographic Meaning
The bird depicted is Sandpiper, a type of shorebird. Design may have been by John Windsor Bradburn, an in-house designer at Minton, Hollins & Co.
Specific Techniques
Tile was manufactured by dust-pressing, a technique that uses clay milled to a fine powder with low moisture content, then pressed in a die at high pressure. The design was transfer printed, a technique in which an image from an engraved plate is transferred to a tile, usually, requiring transfer paper to be run through a printing press with the engraved plate to pick up the ink, the design from the transfer paper could then be rubbed onto the tile.
Cultural Context
Wall tile. Minton, Hollins & Co.
What
Name

Tile

Identification Number

3401/19

Type of Item

Material

Manufacturing Technique

Overall

height 15.3 cm, width 15.3 cm, depth 1.1 cm
Who
Culture

Creator

Previous Owner

Received from
Where
Holding Institution

Made in
When
Creation Date

between 1875 and 1900

Ownership Date

before October 30, 2019

Acquisition Date

on October 30, 2019
Other
Item Classes

ceramics

Condition

good

Accession Number

3401/0019